Control and Track Your Promotional Banner & Splash Pages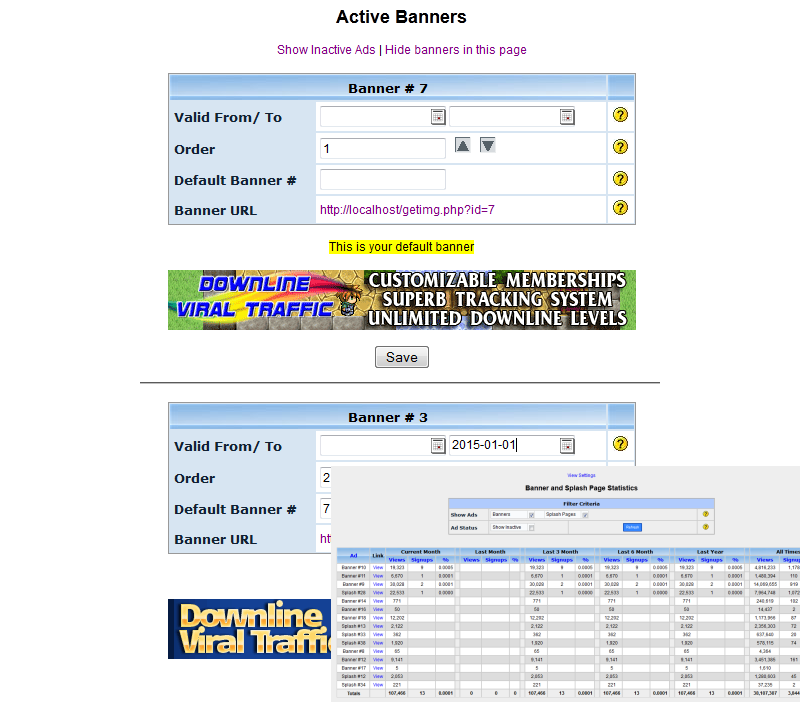 Add to your Admin Tools a better control of your site promotional Banners and Splash Pages, sort them as you want to shown them in the Affiliate Toolbox page or hide ads which you don't want to show anymore.

What about season banners or splash ads that you want to show only for a season?
With this mod you can schedule when to show your promotional ads in your affiliate toolbox and don't worry, you can define a default banner and default splash page which will be shown in case any member is promoting an inactive or "out of season" ad.

Do you have fixed promotions on different days of the week? Add splash pages which can show a different splash page every day of the week!

Do you know which ads are bringing more members to your site? This mod also keeps track of views and signups coming from your banners and splash pages and statistics are shown in the admin area.

This mod includes:
Show banners and splash pages in your affiliate toolbox as you defined.
Control of inactive and scheduled banners and splash pages.
Admin pages to manage your banners and splash pages, with functions to sort, hide, schedule for a timeframe and define default promotional ads and splash pages as daily rotators.
Admin page with views & signup statistics of your banners and splash pages for the current month, last 1, 3, 6 and 12 months and all times.

A great addition to your Admin Tools
Get it for one time payment of $ 50.00



To make a purchase you must be logged in.
Click here to login



This mod can be installed in all your LFM sites which you own.



Notes:
Installation requires to upload new php files, setup cron job and changes in affiliate toolbox page.
Statistics do not affect database size, only accumulated values are stored.
Temporal access to your cpanel is required for the installation.
Impact on LFMTE files is limited: additional code in pt_m_links.php is required to sort or hide ads shown to members
.htaccess file is changed to control promotional tools.
You will receive free upgrades for this mod in case I enhance it